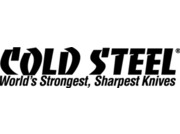 Cold Steel was founded in 1980, and has since been dedicated to making the some of the strongest, sharpest knives available today.

Over the past 30 years, Cold Steel has been inventing and bringing to market many innovations that have helped to define the knife and outdoor industry. Some of these achievements include the introduction of the checked Kraton handles to many high-quality cutting tools.

Today, Cold Steel offer a very extensive range of outdoor, hunting and bushcraft knives along with some of the largest machetes for jungle exploration.