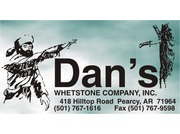 Dan's Whetstone Company is owned and operated by Danny Kirschman, the man behind the famous and exceptionally high-quality Arkansas knife sharpening stones. Since its inception Dan's Whetstone Company has been provided some of the finest sharpening stones available today. Dan's fascination with Novaculite - the rock that is used to make whetstone soon became an obsession, and resulted in the company formation on June 6th 1984.
The whetstone manufacturing warehouse is now located in Arkansas, the home to the genuine and natural sharpening stone.
Dan's Whetstones Stocked at Greenman Bushcraft
Here at Greenman Bushcraft we believe these stones to be some of the best sharpeners on the market today, suitable for all kinds of outdoor and bushcraft knives and cutting tools.