A Guide to Foraging Common Wild Foods
---
I've been foraging now for some 26 years, since the young age of 4 years, when I used to collect wild foods foraged from the hedgerow with my granddad who was certainly never adverse to a wild and free meal from the British countryside. We had many adventures from shooting and fishing, through to learning about Bushcraft although back then that wasn't really a term used.
Today, I forage for my family when I get the chance and I also regularly forage wild ingredients for TV cookery shows and various TV chefs, although I tend to hide behind the camera if I possibly can. As well as gathering wild foods for the pot, I also write for several outdoor magazines, such as 'Great British Food, 'FHM' and 'Grow your own fruit and veg', as well as many websites on the subject I enjoy the most.
Wild foods are a fundamental part of what we commonly call 'bushcraft' and unlike most other aspects of this noble art; it is one area that can be exceptionally dangerous if you don't know what you're doing. So learning your craft is vitally important if you want to remain safe when enjoying the fruits, nuts, flowers, roots and leaves of many of our native, and sometimes not so native edible flora.
Here, I aim to give just a brief understanding of the edible qualities of some of our most common and easily identifiable wild foods, just to give you a little peak into the world of wild gastronomy. For now, I will just include three wild foods, but I will add a follow-up article in the not too distant future containing some more species, wild food recipes and useful information.
If you decide that you want to try foraging for yourself, then I'd suggest starting with a good book, such as Food For Free and it's also worth booking yourself onto a course where you'll learn details that are simply not possible from any single book. Before we start, I'd suggest reading the wild food rules which can be found here.
Dandelion 'Taraxacum Officinale'
Possibly one of the most common and easily identifiable of our wild flowers, but please do remember that there are other yellow flowers out there too, such as Cat's-Ear and Hawk's-Bit, and, in fact there are in excess of 200 micro species of the genus Taraxacum in Britain alone, so nothing is quite as straightforward as it first seems (with or without a book), but the dandelion you will almost certainly find in your garden is that of Taraxacum Officinale and perfectly safe to use. It would be incredibly difficult to confuse this with anything dangerous, but common sense and caution should always be in mind.
The English name of Dandelion is a corruption of the French Dent de Lion and it is thought by many to come from the yellow lions mane-like flowers, but nobody knows the true reason it gained its name, although it's generally assumed that the deeply lobed tooth-like leaves representing the lions tooth-filled jaws may be the reasoning behind the name, or maybe it's the white tooth-like taproot (once cleaned) that inspired someone's imagination many moons ago. Either way, we will likely never know the true answer, and there are many other theories out there.
The dandelion produces a white milky latex when the stems are damaged. Virtually any plant that produces this should be avoided unless you know for certain that it's safe to use, as in this instance. Some home-grown foots or shop-bought foods will produce a similar sap, such as lettuce.
All parts of the dandelion are useful, but the leaves are the most abundant and form a rosette close to the ground. They have a very bitter taste, far too bitter to be enjoyed by themselves, but mixed in with salad leaves and rich foods they produce a nice bitter note that cuts through other flavours. A good trick is the 'bleach' the leaves by starving them of sunlight as they grow, this produces a yellow-green leaf with much sweeter notes.
The flowers are edible just as they are, or the small petals can be sprinkled on dishes to give them an appealing restaurant-like quality. Caged birds love the flowers too!
It is however the root that is possibly the most interesting part to use. The roots are best gathered in the autumn when they're at their largest. Once the root has been peeled they can be eaten as a vegetable, but for me the best way to deal with them is to leave them unpeeled, dry them out in the sun and then bake in a very low oven until they become brittle. Simply grind them up once in this state and use them as a caffeine-free coffee substitute. Simply add a teaspoon or two to a mug and poor in some boiling water – a very satisfying way to use a common 'weed'.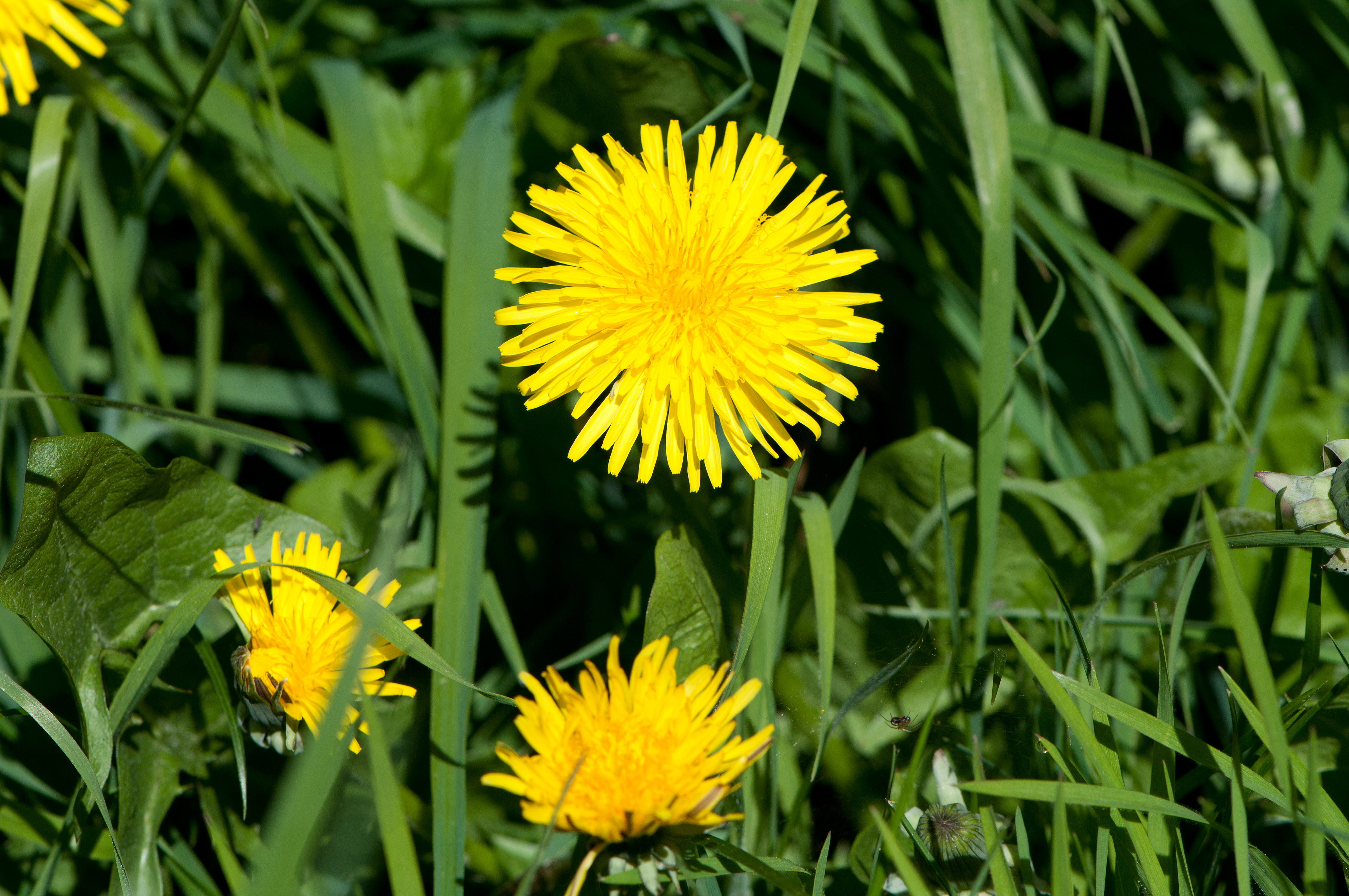 Stinging Nettle 'Urtica Dioica'
Stinging nettles are probably one of the more well-known edible wild foods, but one that very few have ever plucked up the courage to eat. I suppose with their stinging ability it's not automatically what one may consider a 'safe' food to eat, but they are in fact particularly good eating if the correct parts are used.
Firstly, when gathering nettles you want to find the youngest growth, and throughout the year there are generally young nettles springing up, but in the hot summer months you'll find them amongst other vegetation where the light is not so good, often among older nettles, but even the mature specimens usually have young tops, in which case just nip these out and leave the remaining nettle in peace to grow, as they're incredibly important for many species of wildlife, especially butterflies and beetles.
It's important to use only the young leaves as the older course leaves contain small gritty particles called cystoliths which are an irritant to the kidneys, and they also become tough and have a somewhat sickly taste, rather like that of tea bags, not that I've eaten a teabag you understand!
Young nettles can be eaten raw if you're feeling very brave, but cooked in the same way as spinach is enough to melt away any stinging hairs and you're left with a vitamin-packed, health and very tasty treat to go with a main meal. Nettles benefit from a knob of butter and a good sprinkling of salt and pepper. Another great way of using young nettle leaves is to make nettle beer and I will be including a recipe for this on Greenman Bushcraft soon!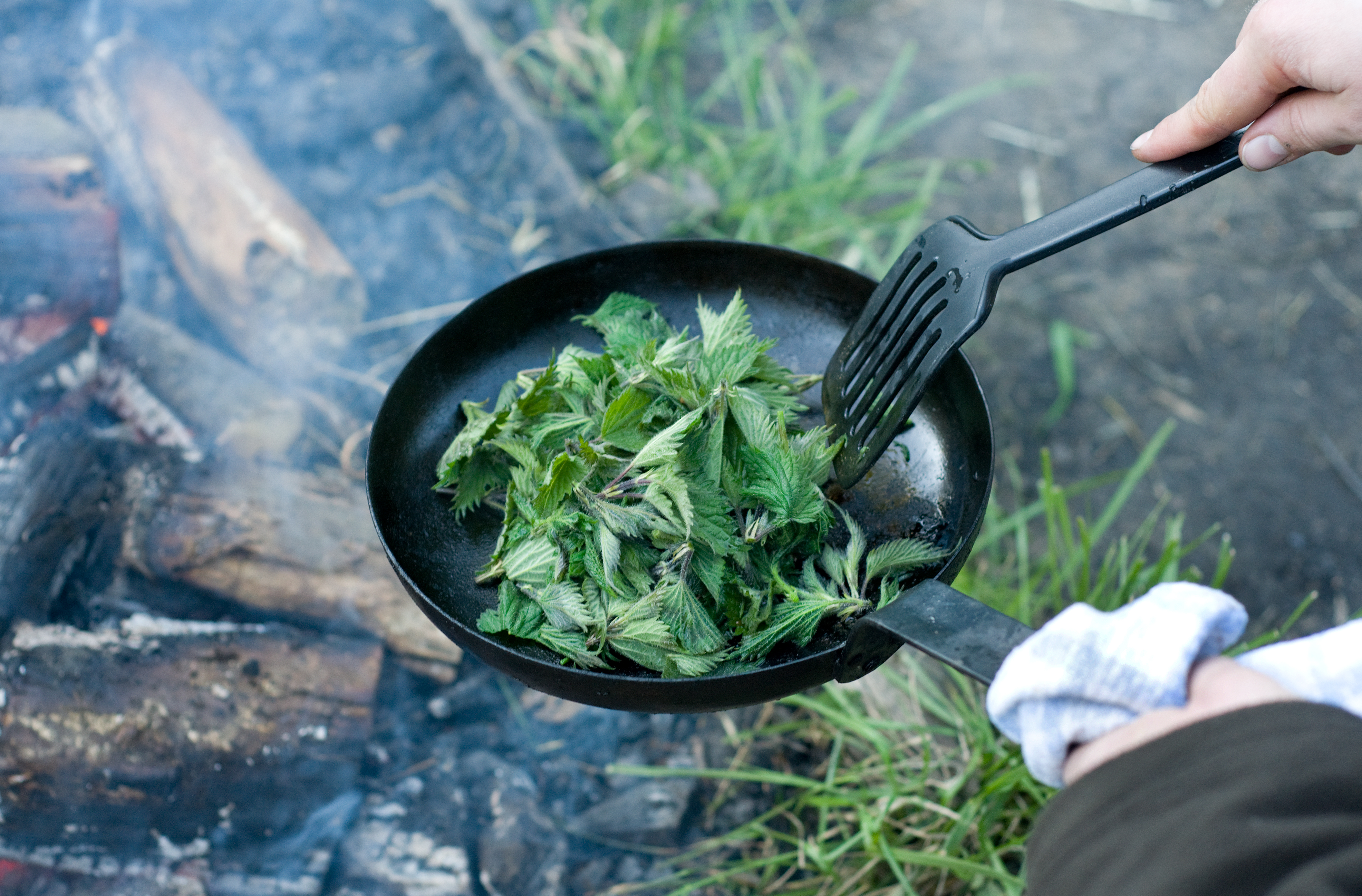 Giant Puffball 'Calvatia Gigantean'
As a general rule, I usually suggest learning fungi slowly, and perhaps start with a few species that are difficult to get wrong, and the giant puffball is just one of those. There are many puffballs, but the difference here is primarily the size, they really are big, often the size of a football and pretty much round in shape with no gills.
Giant puffballs are usually spotted in late summer through to October, and appear in woodlands, grasslands and playing fields. Sadly, many people kick them like footballs! So it's worth going off the beaten track just a little if you wish to find some pristine specimens.
The flesh is quite leathery on the outside, but if still pure white, they are perfectly edible, although this white colour must remain all the way through the puffball. If the flesh is going brown it's getting ready to spore and should not be used as a source of food. If you happen to find one which is too big, you can take a slice from it whilst still growing; this should provide you with a living food source for a short time should you wish to return for more. The perfect tool for doing this is the Opinel Mushroom Knife. Some people are a little sensitive to the giant puffball, so I'd recommend only trying a small amount at first, just in case.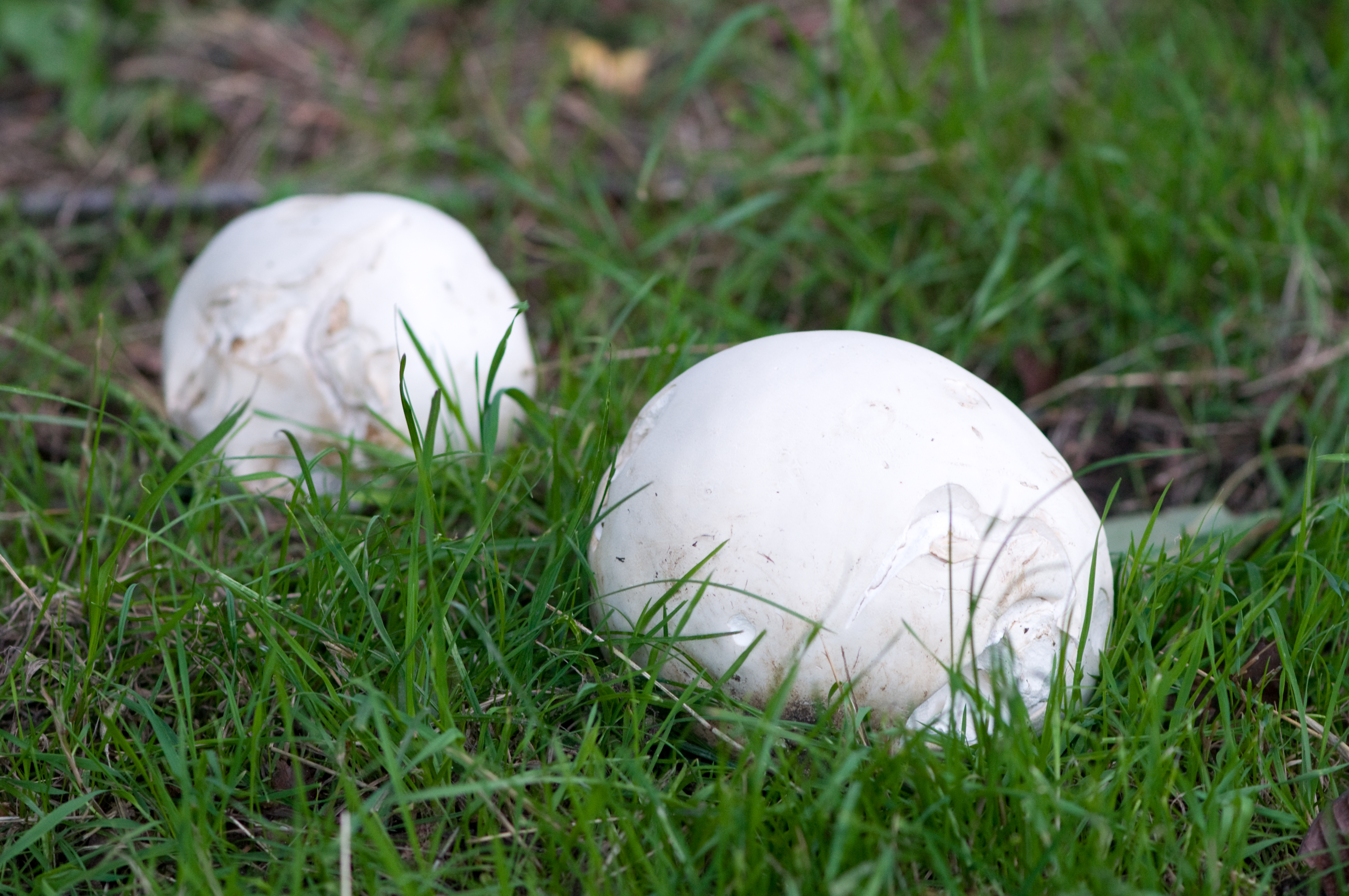 Well that's it for now; I just wanted to introduce a few easy to identify species for your forthcoming bushcraft and summer holiday camping trips. Foraging doesn't have to be all about survival, and it also doesn't need to be something you 'live' from. Some people seem to get funny about that aspect, but a small amount of foraging added to your diet is not only fun to do, but its nourishing for the soul too. Above all, have fun and stay safe!
If you have any questions, please feel free to leave them as comments here and I'll happily answer them when they're forwarded onto me by web team staff. I will be writing many more articles for Greenman Bushcraft over the coming months and I hope you enjoy reading them.
Catch you on the trail.
Kris Miners
---