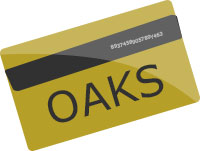 As a way to reward our loyal customer base you can now collect Oaks Points for every order you place online with us. You get 10 points for every pound you spend. 250 points = £1.00 to use against future orders.
You can use your Oaks Points to get a discount on any future orders, with no limit to how many points you can spend at one time.
Please note: points may only be collected if your order is placed via our website and checkout is completed online (telephone/mail orders are excluded from collecting points).
How to get points
Simply log in to your account and your points will be added to your order after checkout.
We will also be running various promotions on our Facebook page where the winner can get points added to their account to spend on anything they like. Make sure you head over to our Facebook page and "like us" to make sure you don't miss out.
How to spend points
To spend your points simply log in before you reach the basket page. Once you have done this you will have the option to use your points to reduce your order total.
How can I add points to existing orders?
Unfortunately, as our points system is automated, if you forget to sign into your account, or forget to create an account at the time of your order, then we're not able to add points manually. This is the same with phone orders.
To qualify you must place your orders online, and be sure to use your account.