Fishing – The Bare Essentials
---
As the weather gets warmer, the chance to enjoy your favourite outdoor hobbies becomes a lot easier. Whether it's an old pastime or a new interest, the (hopefully) better climate is the perfect opportunity to get outside.
One activity that enjoys a resurgence each year is fishing. Once a skill that was key to human survival, it has now become a leisurely hobby (or sport, for those with a competitive streak) that has experienced somewhat of a renaissance over the past few years. It's not just a favourite with the older generations, as some stereotypes may lead you to believe. The younger population are also beginning to realise that fishing at its best is as rewarding as it is relaxing.
There are a few things you need to bear in mind before picking up your rod and heading down to the nearest canal, river or stream. Grasping a firm knowledge of the basics is essential to your success and enjoyment by the water. Make sure that you are comfortable with adding fishing bait to hooks, tying knots and – of course – casting your line before throwing it into the deep end. This is helped with the right equipment, a rod and reels that suit your expertise level, not simply the most state of the art model on the market.
Always give some thought into where exactly you are going to set up your plot. Depending on what fish you intend to catch, it's useful to have an idea where they have chosen to spawn. The closer you can get to that area, the more chance you have of enjoying that feeling of making a catch. Bring the right bait, too. Fish are an extremely diverse species, and don't all enjoy the same thing – we don't eat the same foods as all mammals, so don't make that mistake with our slippery water-dwelling friends, either. Bream fish, for example, like insects and crickets whilst catfish are slightly fussier eaters. Raw chicken liver is a favourite with them, but you can also buy specially made catfish bait that has also proved to be a hit.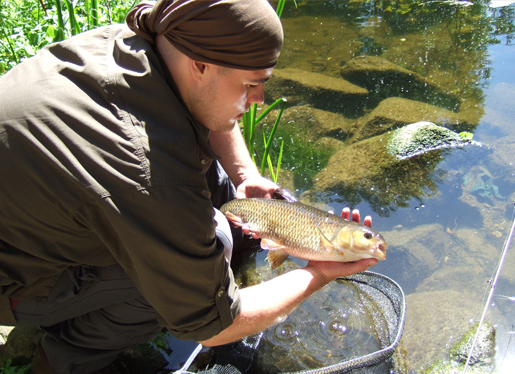 The right attire will also make a huge difference to your trip. Always bring a pair of suitable boots, as being by water means ground that is slippery and soft. There's always a chance you'll need to wade into it as well, and as stylish as your trainers or flip-flops may be they probably won't survive a dip into the muddy waters. Being English, we probably don't need to mention this but we are going to do it anyway: prepare for drastic changes in the weather, because being caught short of layers or waterproofs will have you back indoors before you know it.
Fishing has changed a lot as a recreational hobby over the years. Due to concerns over the world's fish populations, many fishers now tend to throw a large proportion of their catch back into the water. Whatever your preference, make sure you bring some food to keep you going. If you intend on eating your catch (always seek permission), be aware that it may be a long while before you get the first bite. The hungrier you become, the more frustrated you'll be. A frustrated fisher is never a recipe for a fresh fish dinner.
Something that may not spring to mind at first but will prove invaluable once you are next to the water is some insect repellent. Mosquitoes will be the main cause of irritation, but there is bound to be a whole host of annoying little fellows that will keep coming back for more no matter how many times you swat them away.
Keep these in mind and your fishing trips should prove to be great sources of enjoyment. By entering fishing into the search bar at the top of our page, you will see a whole host of other essential items that will undoubtedly come in handy during the fishing season whether you're just dipping your toes in or have years of experience under your belt.
---