No Outdoor Survival Kit is Complete without Paracord
---
If you asked 100 people at random to list the most important items in an outdoor survival kit, I'm sure paracord wouldn't feature very highly, if at all. It may not be viewed in the same light as a bushcraft knife by the man on the street, but make no mistake – paracord is every bit as essential.
This humble-looking rope has evolved over the years from being originally used in parachute lines during the Second World War, to the general purpose utility cord that we see today. Its importance in outdoor survival situations quickly becomes apparent when you consider how many functions it can fulfil. Just a modest length of paracord and a basic knowledge of bushcraft knots enable any bushman to perform all manner of outdoor tasks, such as fixing equipment to harnesses or vehicle racks, lashing timbers together, or securing tarpaulins in place as emergency shelters. It can even be used to support the weight of a person, with genuine 550 paracord possessing a 550lbs breaking strain.
Now that we've established what a vital piece of kit paracord is, it's equally important to know that you're buying the genuine article. If ever the phrase 'accept no imitations' was made for an item of hardware, it is paracord. Purchasing from Greenman Bushcraft ensures that you're getting genuine 550 paracord. Our recently launched online paracord store covers all your needs. For those ex-servicemen among you, you'll be delighted to hear that we are the official UK importer and distributor of US Military Issue 550 paracord that is made for us by the only official supplier to the US Army and Special Forces. Our type-III commercial paracord is more than up to the task too, and has now been boosted by the arrival of genuine 550 glowing paracord, brand new to the UK market. The days, or should that be nights, of fumbling around in the dark looking for guy ropes or utensil hanging points are well and truly over.
By now we hope you're getting the idea that the versatility of genuine 500 paracord is not limited to its uses. Micro and Nano Paracord is of reduced thickness, making it ideal for these fiddly outdoor tasks. Its super-strength means it can even be used as emergency fishing line! Our genuine 550 paracord can be purchased per foot, but if space is at a premium and you're unsure about being able to transport it in sufficient quality, think again. Both our military grade and commercial 550 paracord can be compacted into wearable paracord bracelets or necklaces and even fashioned into accessories, like keychains. This cuts down on space but ensures that you've always got a length of paracord to hand when you might need it. As seasoned bushmen everywhere will agree, when you're outside this could be absolutely anywhere!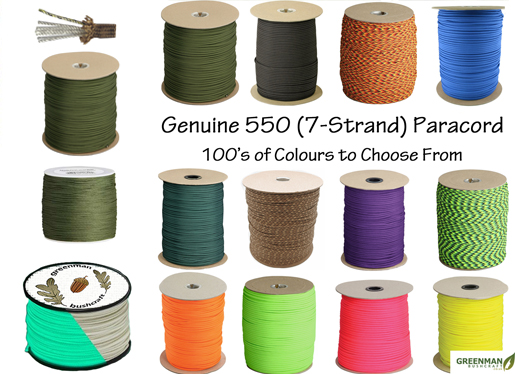 Hopefully, this has gone some way to demonstrating why genuine paracord should be at the top of everyone's list when it comes to packing their outdoor survival kit. All of our 550 paracord products come in an array of colours and are available to both the retail and wholesale markets. So what are you waiting for? Visit our paracord store today.
---