Sleep under the stars this summer – Choose a hammock!
---
Whilst packing for your next outdoor adventure it's likely you'll be reaching for your trusty tent. You've been through a lot together, camping in the forest, protection for windy beach visits and numerous music festivals. It's true; tents can be a camper's best friend. Now days we are absolutely spoilt for choice when it comes to choosing the perfect tent. But Greenman Bushcraft has a suggestion for you. How about giving your tent a break and testing out a hammock instead?
Staying in a hammock on your outdoor adventure will provide you with many unique experiences. Hammocks are often reviewed as quick to put up, reliable and a much more comfortable option than a tent. When you stay in a hammock you are much more involved with nature and your surroundings. You are able to watch the wildlife around you. You can feel the warmth of the campfire by your side. If you're really lucky you can star-gaze until you fall asleep.
'A hammock?' I hear you cry. 'Surely that's not going to protect me from the great outdoors?'
If this is your reaction, then clearly you haven't browsed our 'Outdoor Hammock' range. Greenman Bushcraft has a variety of different hammocks, each one suited to your different camping needs.
Our 'DD Hammocks' are designed with the avid camper in mind. They are all light-weight and made from polyester to provide maximum support and comfort. If you are intending to camp where there may be a chance of rain – then not to worry, we still have the perfect hammock for you. The DD Camping Hammock has two layers. When it rains simply pull the layer you aren't sleeping on over your body for cocoon like sleeping.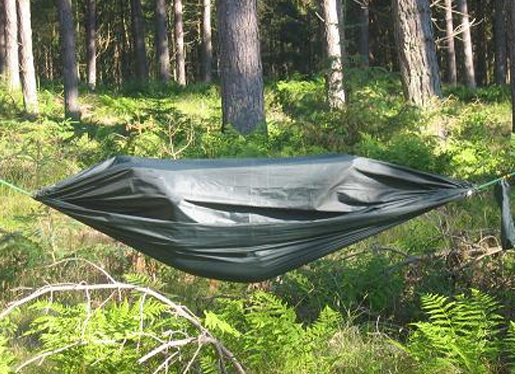 If its mosquito bites and other creepy crawlies you are worried then the DD Jungle Hammock might be for you. This hammock allows the user to add or subtract component parts. It has a mosquito net as well as a rain cover which you can be removed when required. You don't have to have both at once, you can just use one. The flexibility of this hammock means you only need to take the parts you require. It also works on a pole system so the mosquito/rain cover roof becomes very spacious for comfortable sleeping.
Greenman Bushcraft also offers premium outdoor hammocks designed for comfort, durability and to be ultra-light. The 'Exped Hammock' range is perfect for woodland adventures. The Exped Scout Hammock would especially benefit your little woodland adventurers. It is incredibly light and compact which makes it effortless to carry.
The Exped Travel Hammock on the other hand is excellent for those who want to pack light and also have three different products in one. This hammock isn't only a strong and durable for sleeping but can also be used as tarpaulin, a beach towel, or propped up for use as shade. You can't say the same for your tent now, can you?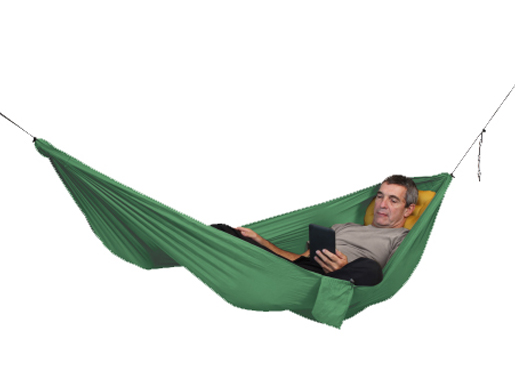 If we've peaked your interest then you should head over to the Outdoor Hammock page on our website. We've got even more hammocks to choose from there, you will be sure to find the perfect hammock to suit your adventure. So give sleeping in the trees a whirl this summer to create some fantastic memories and change the way you see camping forever.
---