Where to practice bushcraft in the UK
---
Where To Practice Bushcraft In The UK
So you've recently got some new gear and now you want to get out and use it? Now its time to find out where to practice bushcraft skills in the uk.
When choosing a location there are few things to consider such as; land ownership, laws and bylaws, regulations and access codes which limit what can be done and where. This article will help you decide where to practice bushcraft in the UK.
Laws relevant to bushcraft
There are no laws relevant to bushcraft as a whole, however there are laws relating to activities that bushcrafters commonly practice like fire lighting, knife carrying, fishing and hunting for example.
Land ownership
Unlike other countries, most land in the UK is owned privately, by local authorities or the military. However, you'll be pleased to hear there are exceptions to this. For instance, there is an abundance of public footpaths and trails across many beautiful landscapes in England and Wales that you are free to access – open access land. These public rights of way can be seen in the Landranger and Explorer series of Ordnance Survey maps and appear as a salmon colour round the boundary of the land – check the key for further details.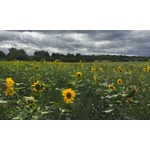 There are other areas of England and Wales where you have the 'right to roam' meaning you don't just have to stick to footpaths. The Natural England department of the government have made this data available online. The MAGIC website provides interactive mapping about the natural environment across England in Wales. A really helpful tool to plan where you are going to venture.
If you are trying to find a private location to camp, always ask the landowner in advance. You might be pleasantly surprised to find that they will give permission. If not, keep trying until you find a suitable location – there's no harm in asking. We would advise not to knock on a landowner's door and unload on him/her all the activities that you want to carry out on their land. Instead, try a soft opening such as 'I am interested in wild life observation and would like to explore some of the natural wildlife on your land, would this be okay?' This is a great opening and over time can lead to permission to stay overnight, light fires, hunt, fish and all sorts of other activities you want to learn and practice.
In Scotland there is unhindered access to open countryside. This gives you the right to be on any land for recreational purposes including; hunting, shooting and fishing so long as it is done responsibly.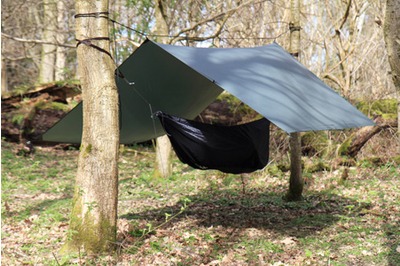 In Northern Ireland, public rights of way are comparatively limited. However many landowners have granted access to their land and much public land is accessible. This can also be found in Ordnance Survey Maps.
Camping
In England and Wales, wild camping is tolerated in many upland areas (which mostly coincides with open access land discussed above). If camping on privatey land, you must seek land owner's permission first. The situation in Northern Ireland is very similar to England and Wales.
Camp Fires
To have a campfire in England, Wales and Northern Ireland you must have landowner's permission.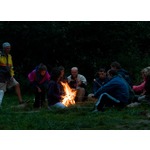 Having a campfire in Scotland is permitted. The outdoor access code also states "Wherever possible, use a stove rather than light an open fire. If you do wish to light an open fire, keep it small, under control, and supervised – fires that get out of control can cause major damage, for which you might be liable. Never light an open fire during prolonged dry periods or in areas such as forests, woods, farmland or on peaty ground or near to buildings or in cultural heritage sites where damage can be easily caused. Heed all advice at times of high risk. Remove all traces of an open fire before you leave."
Foraging/Plant Use
In the UK and Northern Ireland, it is illegal to uproot any wild plant without permission from the landowner. This includes digging out roots and tubers. However, picking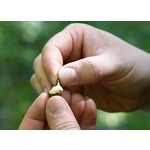 flowers, leaves, berries, nuts, seeds and fungi is allowed in areas where legal access is granted.
Snaring
Before using any snares you must obtain landowner's permission and follow the codes of practice set out by Defra. There are restrictions on the use of snares in the UK under the Wildlife and Countryside Act 1981. There are also offences for snaring specific wild species and failing to check snares.
Where To Practice Bushcraft In The UK – Summary
There are some fantastic regions where you can practice elements of bushcraft in the UK. If you're looking to roam freely and camp then head to open access land. For a more complete and legal wild camping experience, head to Scotland.
Many outdoor enthusiasts find accessing land to practice and hone their skills the biggest challenge to overcome. The key is to use your initiative and think smart. Yes, there is a lot of privately owned land which you are not automatically allowed to access, but using approaches like the one suggested earlier in this blog will break down these barriers and open up many opportunities for you.
If you don't feel confident enough to knock on a landowner's door and ask them for permission, then why not explore the abundance of open access land throughout the UK. I can almost guarantee you will find some hidden gems and great spots where you can discreetly set up and camp for the night and 'leave no trace' in the morning.
The best piece of advice we can offer you is to buy an ordinance survey map, scale 1:25 000 of your local area. Familiarise yourself with the key and then look for some nearby open access land. Grab your day pack and go exploring this weekend. If you find a nice secluded spot with preferential features, try an overnight camp. If you rinse and repeat this process, before you know it you will have several spots you can access whenever you have some free time.
Remember that it is important to experience all weathers and seasons, review your kit after each trip and try to refine you pack continuously. The only constant in life is change.
We hope this article has helped give you a better understanding of where to practice bushcraft in UK.
If you have discovered a great place where to practice bushcraft, then please let us know! Likewise, if you're struggling to find a location to suit your needs get in touch. You can leave a comment below.
---