Welcome to the NEW Greenman Bushcraft!
---
Here at Greenman Bushcraft we've been very busy the past few months re-designing, updating and improving our site for you, our customers, and are very excited to finally be able to share our results. We're very excited about the new Greenman Bushcraft and believe our site is now easier and more enjoyable to use than ever before, we hope you agree and would like to take this opportunity to welcome you to our new site and thank you for visiting!
So what's new?
New Design: We've redesigned our entire site with a much more modern feel which we believe is now even easier to use than ever before!
New Logo: For our launch we also wanted a new logo to emphasise what Greenman Bushcraft is all about; enjoying the skills of bushcraft and outdoor activities whilst working in harmony with nature.
Mobile-Friendly Site: Our site is now optimised for viewing on iPhone, iPad and Android handheld devices, so you can browse wherever your outdoor activities and adventures take you!
Blog: Our blog has also been completely updated, and alongside the usual news and product reviews you'll now find useful bushcraft and nature-based articles to enjoy and hopefully inspire you with new ideas for your own outdoor projects. We update our new blog frequently so make sure to check back regularly for the latest updates.
30 Days Money Back Guarantee: We now offer a FULL 30 day's money back guarantee on our products! See our Terms for more information.
We Care About Your Security: We've taken it upon ourselves to offer even higher online shopping security measures. We now offer EV SSL Certificates (the green URL bar that many banks use). This provides you with the safest online shopping experience possible, yet another reason why we believe we have the edge over our competitors.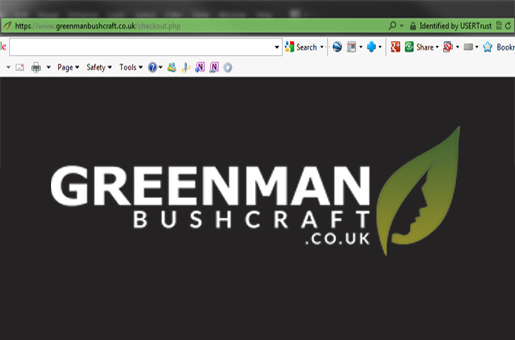 Gift Finder: Looking for a gift for a fellow bushcraft enthusiast and unsure what to buy? No problem, with our new Gift Finder option finding that perfect present is now easier than ever before.
Wish List: Seen something you'd like for later? Our new Wish List tool allows you to simply save it for a later date at the click of a button!
Out of Stock: Whilst we strive to keep our products available to our customers, if you do encounter something that's currently out of stock you can now simply click 'Email Me When Stock Arrives' and we'll send an email notifying you once the item(s) are back on our shelves!
Buying in Bulk? We are now proud to also offer bulk discounts on larger orders, perfectly suited for forest school and scouting groups. Most of our offers are displayed on our site, but please feel free to contact us if you require more information.
Newsletter: We've re-designed our newsletter too! Sign up now for our latest blog posts, exclusive deals, offers and more direct to your inbox!
Why not advertise with Greenman? Our website receives tens of thousands of hits each day so you can rest assured that your advert will be seen by an audience of thousands of like-minded individuals. We have a limited amount of advertising space that we've made available for non-product sales, outdoor or wildlife-based companies, please contact us for more information.
---