Best Bushcraft Knife – Staff Top 10 Picks
---
What is the best bushcraft knife? This is a question that we receive a lot, and it's understandable given the amount of bushcraft knives that are available today. In fact, there are more bushcraft knives and cutting tools available today than there have been at any other time. This is due, in part, because of the level of awareness of "bushcraft" as a subject and the fact that there are more companies and artisan knife makers in operation than ever before – and that's all great stuff – but it does cloudy the water when it comes to making the all-important decision of choosing the "best bushcraft knife".
If you ask ten different bushcrafters what they consider to be their favourite bushcraft knife then the chances are that you will be given ten different answers. This is namely because each of us have our own opinion on what is, or is not important in a cutting tool, and for others it may even be down to the "feel" of the knife in the hand. We are all different. Some bushcrafters will prefer different blade shapes and some will prefer different steel types or grinds, so determining what the best bushcraft knife is a very personal thing.
We've established the fact that opinions will vary, but there are several factors that are a MUST, especially when choosing your favourite outdoor knife.
The knife must have a strong "tang." This is the element of the blade that runs into the handle giving the blade rigidity and strength. There are all kinds of myths surrounding the tang, but essentially you want a knife that either has a full-tang or at least a good portion of one. There are many styles of tang, such a Full-Tang, Partial-Tang, and Stick-Tang and so on. Most, but not all Scandinavian knives/blades offer a Stick-Tang, and there is nothing wrong with this at all. There is a lot of belief that every knife should be Full-Tang (relating to the width as well as length of the steel in the handle), but this is not so. Stick-Tang Knives are incredibly strong and often help with the overall balance of a cutting tool. Many knives with plastic handles, such as the hugely popular Mora Knives offer Stick-Tang or Partial-Tang, and due to the manufacturing process these knives are incredibly strong and should not be overlooked when it comes to choosing knives.
For further information on some of the information above you can read our other articles about choosing a bushcraft knife and also about the differences between the steel types available, and even more about the tang within our blog.

So, on with the Best Bushcraft Knife Picks from some of our members of staff and the reasons why they have chosen the knives that they have. We should point out that we have purposely excluded our own-brand Greenman Bushcraft Knives from the list here for obvious reasons.
---
Paul – Feature Writer and Graphic Design
Favourite Bushcraft Knife: Helle Temagami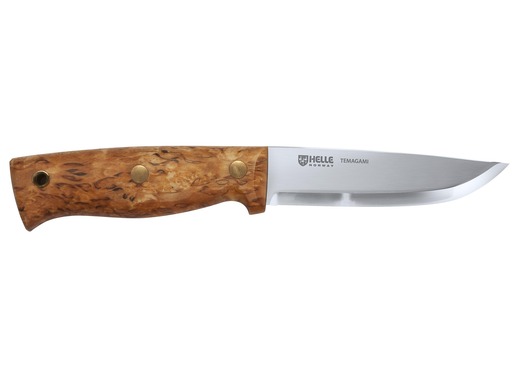 Affectionately known as "Bushcraft Paul," you may have read some of Paul's articles on our blog, and will have most certainly read some of his product descriptions and viewed some of the imagery used throughout Greenman that Paul has photographed from stock in our product photography department.

"I've had the pleasure of testing out many knives over the years and I have many favourites, but currently my top pick is the Helle Temagami which I've been field-testing for the past 12 months of so. This particular knife is available in both carbon and stainless steel types. I'm using the stainless steel version, although I have no preference between the two really. I love the weight and balance of the knife and the fact that it has a loft more heft than some similar styles available. The curly birch handle is a nice feature. The knife is particularly good for battening (even though you shouldn't really use a knife for this) and it comes complete with a great leather sheath. It's a hugely multi-purpose knife and I use it for all my carving outdoors as well as preparation for outdoor meals when I'm teaching once in a while. All in all it's a lovely survival knife and suits me perfectly."
---
Mike - Operations Manager
Favourite Knife: Gerber DMF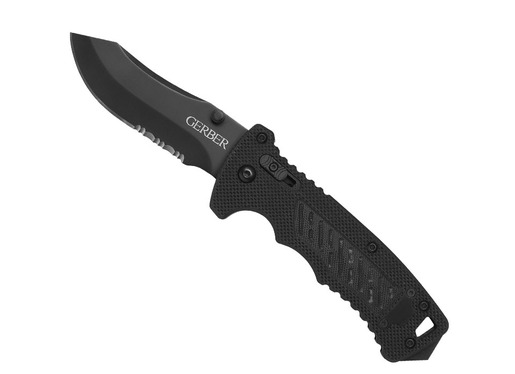 Mike is technically our Warehouse Ops Manager – but he can turn his hand to most things, and takes care of some of the buying as well as customer service duties from time to time. In his spare time he enjoys the outdoors, and in particular climbing. Mike has been part of search and rescue teams on a voluntary basis in the past.
"I may be cheating a little with my pick, because it's not really what you'd call a traditional bushcraft knife per se, but I'm coming at things from a slightly different perspective in that I want a general high-quality folding knife, and my choice is the Gerber DMF because it offered exactly what I required in a knife. Once the blade is open, it's as large as the majority of bushcraft knives. Coming from a search and rescue background I'm more 'survival' orientated than bushcraft, but this knife is great for bridging the gaps. I use mine for climbing, cutting ropes and god forbid, seatbelts in emergency cases"
---
Pip – Social Media & Advertising Manager
Favourite Knife: Mora FF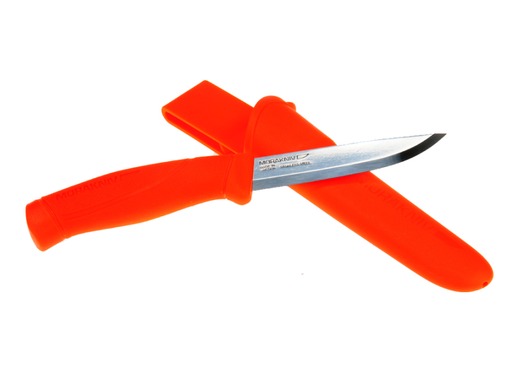 Thanks to Pip you fine folks know about us! Pip works hard on arranging our adverts and liaising with Paul to help create the graphics for such adverts, and oversees some of our Social Media work.
"When people hear my job title the last thing that they think of is my love of the outdoor world, and in particular outdoor education. Here at Greenman Bushcraft we almost all have a background in outdoor education or at the very least a heavy interest in the outdoor world, whether that be nature-based or solely bushcraft and survival. As I say, I come from an educational background and taught basic bushcraft and forest schools and the knife we used to use prior to me working here was the Mora FF, and it was purely for two reasons - the quality of the knife overall and its brightness. If it's dropped outdoors then the colour illuminates so much that they are very hard to lose and being in charge of counting the knives back in at the end of the session these knives have saved me a lot of time on countless occasions!"
---
Stephen – Processing, Picking and Packing
Favourite Knife: Hultafors Craftsman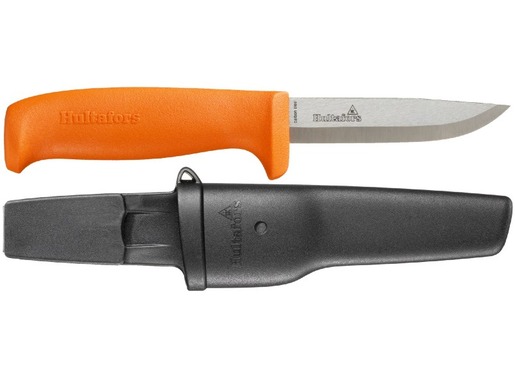 If you've placed multiple orders with us at Greenman Bushcraft, then the chances are that at least one of the orders was picked or packed (maybe both) by Stephen, and what a fine job he does! Stephen volunteers with scouts and other outdoor education events and likes a spot of sea fishing in his spare time, and usually tells us tales of "the one that got away" – yeah, OK, Stephen!
"I see, and handle, possibly in excess of ten thousand knives a week and whilst I've not used each and every model, I have at least seen them and handled them to some degree or another. My favourite bushcraft knife is the Hultafors Craftsman. My main reason being that it costs so little, and yet the quality is so high that I can never truly work out how they can be sold for such a low cost. My wife always says that I'm a tight git, so maybe this just shows up my thrifty nature! But regardless, they are fantastic cutting tools and anyone reading this should consider one of these knives because believe you me, they perform every bit as well as knives costing a lot more!"
---
Kris – Jack of all trades
Favourite Knife: Mora Garberg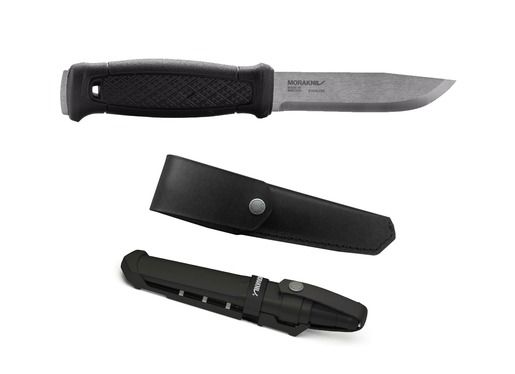 Kris has done everything from running our outdoor courses and taking care of our corporate sales, to personally delivering goods to our local customer base – sometimes within a few minutes of an order being placed! Kris is also an author of over 500 articles in magazines and books. Kris has worked on various TV shows, and even trained some of the hosts of survival-type shows for Channel Four and Discovery Channel. Kris has designed various bushcraft knives from scratch, and has worked in outdoor education and environmental education for the past twelve years. He holds a degree in conservation management and environmental sciences.
"I'm asked this question more times than I care to think about, and to be honest my answer will vary each time because it depends what I've been using or testing (unless I dislike what I'm testing obviously), so my answer here will be the latest bushcraft knife that I've been field-testing, and that is the Mora Garberg. So far, I just love the Mora Garberg and the way it handles. At first I was a little sceptical as it is a huge jump in price from the standard line-up of Mora bushcraft knives, but this model really is quite different and the first thing you notice is the weight of it – a nice chunky and hefty feel. The tang of the knife sticks out of the end of the knife, so you can rest assured that this is a full-tang knife. The blade offers a thicker spine than most Mora knives and it feels absolutely bombproof. I've only been testing this knife for a few weeks now, so I won't go into great detail yet, but it's safe to say that this is a great choice of knife for anyone serious about their bushcraft, as well as outdoor instructors"
---
Andy – Warehouse Manager (Chelmsford)
Favourite Knife: Mora Companion Series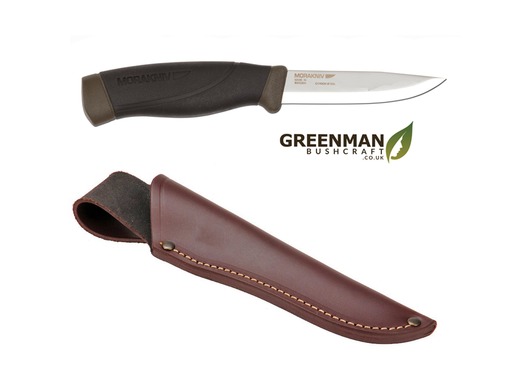 Andy keeps our Chelmsford warehouse in check – from arranging incoming shipments to keeping everything in an orderly manner. Andy also manages the packing room and ensures that the systems are running effectively and smoothly – so it is he that you can thank for your orders arriving in such a speedy manner. In his spare time he enjoys flying high with the birds, but after a near miss with a seagull in his glider recently, he's taking some time off to focus on land-based activities…. It probably won't last for long!
"It has to be Mora for me, in particular the Mora Companion range of knives. Each Mora knife is an outstanding quality cutting tool and one that can be relied upon when it matters most. Whether it is for personal or professional use, Mora of Sweden has you covered – they have a style of outdoor knife for everyone – even mushroom pickers. My personal favourite is the Mora Heavy Duty as it has the added strength but essentially the same design as the original Mora Companion 840 or 860MG. You can read more about my personal top ten here"
---
Emma – Admin Assistant
Favourite Knife: Opinel round Tip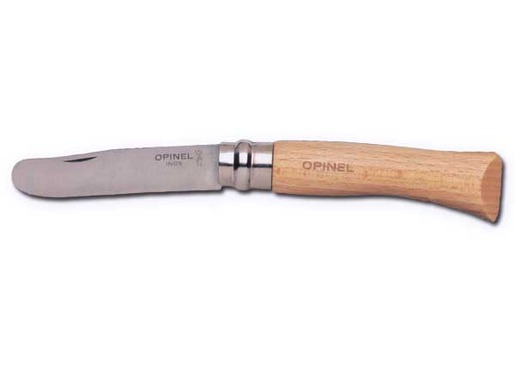 Emma is a stickler for organisation and keeps on top of our Suffolk-based office paperwork. Emma also helps with customer service enquiries and you may have spoken with her if you've ever needed to supply extra identification whilst purchasing knives or bladed tools online. In her spare time she enjoys teaching very young children about nature and wild camping.
"I'm used to working with a group who teach the next generation of bushcrafters by way of a local Wildlife Trust and we usually use the round-tip knives from Opinel as they have a less intimidating appearance when compared to larger, fully-tipped outdoor knives, which is preferred when teaching young children who have not whittled before. We teach them (and the parents) the safe and proper way to use whittling knives. This helps install a healthy respect of outdoor tools and how they should be used appropriately"
---
Laurie – Goods in
Favourite Knife: Gerber Moment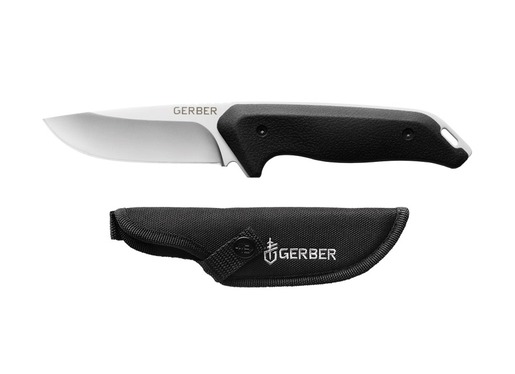 Laurie is in charge of arranging our containers, imports and exports and taking delivery of our larger shipments, so he's often jumping in and out of lorries or driving around our Suffolk Warehouse on the forklift – we think that he secretly enjoys riding on that thing – carrying single Jiffy Bags from A to B was the giveaway!
"I prefer the more modern looking outdoor knives, from brands such as Gerber, Buck and Fallkniven. I currently use the Gerber Moment because it's as tough as nails, sharpens easily and holds its edge well. I tend not to treat my knives very well (I'm often told off for this!) but the Gerber Moment seems to handle the abuse I throw its way with ease. I also use it for fishing, and unlike most staff that work here I only own a couple of knives and this is my multi-purpose tool, so if it's cutting up fishing baits or pointing a stick or even chopping a block of wood it is the Gerber Moment that I use, and it's never let me down"
---
Ted – Picking, Packing and Paracord Cutter extraordinaire
Favourite Knife: Budget Bushcraft Sheath Knife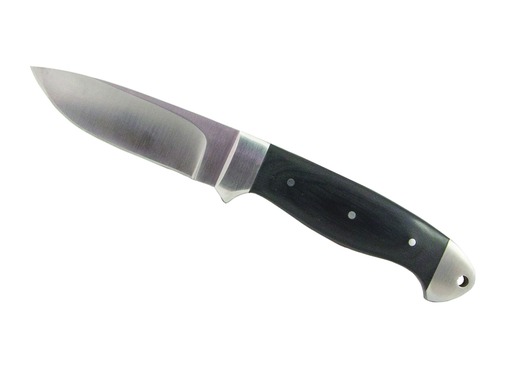 Ted is another member of the team who picks and packs your goods and when we're extremely busy, Ted also helps Laurie with "goods in" duties. Another job that Ted is very proficient at is cutting paracord to your desired length – he's the fastest one of the lot of us that works in the paracord warehouse cutting and spooling our vast range of paracord. Ted also works part time for our sister company dealing with wholesale supply.
"Being naturally frugal I'm always out searching for a bargain or two and when it comes to buying outdoor gear I am just the same. I try to find good quality at a reasonable price. I'd had my eyes on these low-cost bushcraft sheath knives since they first arrived at the warehouse and it wasn't long before the urge to make the purchase set in. They're basic, but very good quality and offer a really good edge straight out of the box. They feel nice in the hand and have performed really well in my experience. The sheath is a little more basic than some, but it's perfectly serviceable and looks the part – in fact the whole knife performs and looks much more like that of a knife with a higher price point. If you're looking for a low cost but high performance knife that is a little more in keeping with the bushcraft theme i.e. no plastic handles or blade serrations then this is a good choice, especially if on a budget, wanting a back-up knife or simply want to dip your toe in the water before making a larger purchase."
---
Christopher – Self-proclaimed "Geek" and deals with web-design and networking
Favourite Knife: Karesuando Northern Lights Bushcraft Knife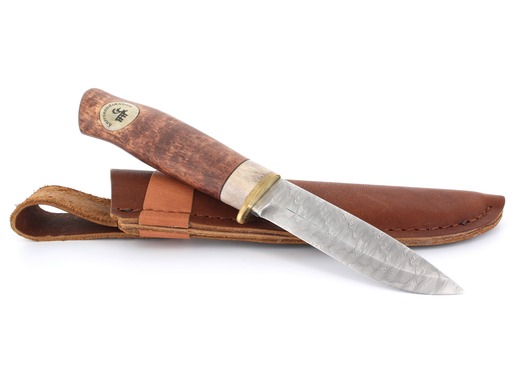 Christopher deals with all things techy! He helps run the websites, the back system, email accounts, networking and general software and hardware installations – he's just one of those annoying people that can make technical stuff work when everyone else is perplexed. During his down time he spends time outdoors – but usually takes some gadgetry with him, such a Biolite Stove!
"I think it's fair to say that I have an unhealthy obsession with collecting 'stuff' – not just bushcraft gear, but pretty much anything, from coins, to antique petrol lighters (I don't even smoke) and to add to my range of bits and bobs I also have a vast collection of survival knives (currently stands at 150+) so taking a wonder around the warehouse that contains the tools and gadgets is never a wise move for me as I come out wanting just about everything.

Currently, I'm loving the Karesuando Northern Lights Bushcraft Knife which is stunning to look at, which may well be what a lot of people buy them for, but I do actually use most of my collection, including this beauty. The Damascus steel blade looks quite simply stunning and it's every bit as good to use as it is to drool over. In terms of performance it's the ideal bushcraft knife, just the right size, weight and balance and is my go to bushcraft knife. You will find that it attracts a lot of attention from other bushcrafters, so if you like a chat around the campfire this is another good reason to purchase this once in a lifetime premium cutting tool."
---
So these are the top knives form a few of our staff members – but what are your favourite knives and why? Please leave your comments below.
---