An Introduction to Mora Bushcraft Knives
---
Which Mora Bushcraft Knife Should I Choose?
Before you continue reading, please bear in mind that this is not an exhaustive list of the range of Mora knives. We offer a large section on the website, and here we have covered a few of the most popular range of Mora knives that we stock.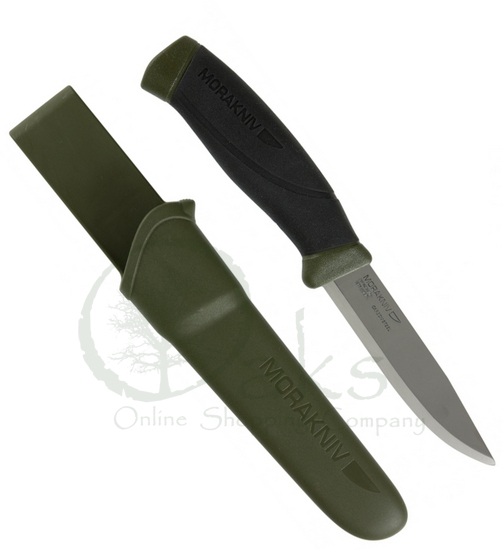 Mora 840MG & 860MG Companion Knives
Ask any bushcrafter which bushcraft or survival knife they'd recommend for beginners and experienced users of cutting tools, and the majority of the time the response will be either that of the Mora 840MG companion with a high-carbon steel blade or the very similar 860MG companion which is almost exactly the same knife aesthetically, but the blade is made from stainless steel instead of carbon and the specification is slightly different (see below).
The Morakniv (formally Frost's knives) Companion range, are, in essence a fantastic all-in-one outdoor knife aimed primarily at the outdoor bushcraft fanatics and it serves it purpose very well indeed.
Each knife offers the same patterned high-friction grip handle, which offers the user a safer and more controlled function if using either knife in less than favourable weather conditions. Unlike many textured grips, the Mora handles offer prolonged use without the risk of blisters or sore hands.
The 840 and 860 both feature pencil/stick tangs which are imbedded in moulded plastic handles, meaning they're virtually indestructible and anyone who's tried to remove one of their handles will be nodding their head as they read this. The blades come exceptionally sharp in the traditional scandi grind which is also very easy to re-sharpen; in fact it's the easiest grind to work with.
You can see the internal design in this diagram.

The only difference between the two is the choice of steel. The majority of bushcrafters prefer to use carbon steel, and you can read the differences between the two HERE. However, the 860 is also now available in a mix of different colours and we've added these to the drop down within the product listing, and all can be found HERE. At the time of writing, the 840 is still only available in MG (military green).
Both the 840MG and 860MG come with basic, but very functionable plastic sheaths for safe storage and the option to attach to a belt of rucksack strap.
Mora 840MG Carbon Specifications:
Blade Thickness: 2,0mm
Blade Length: 104mm
Total Length: 219mm
Net Weight: 0,1100kg
Mora 860MG Stainless Steel Specifications:
Blade Thickness: 2,5mm
Blade Length: 104mm
Total Length: 219mm
Net Weight: 0,1160kg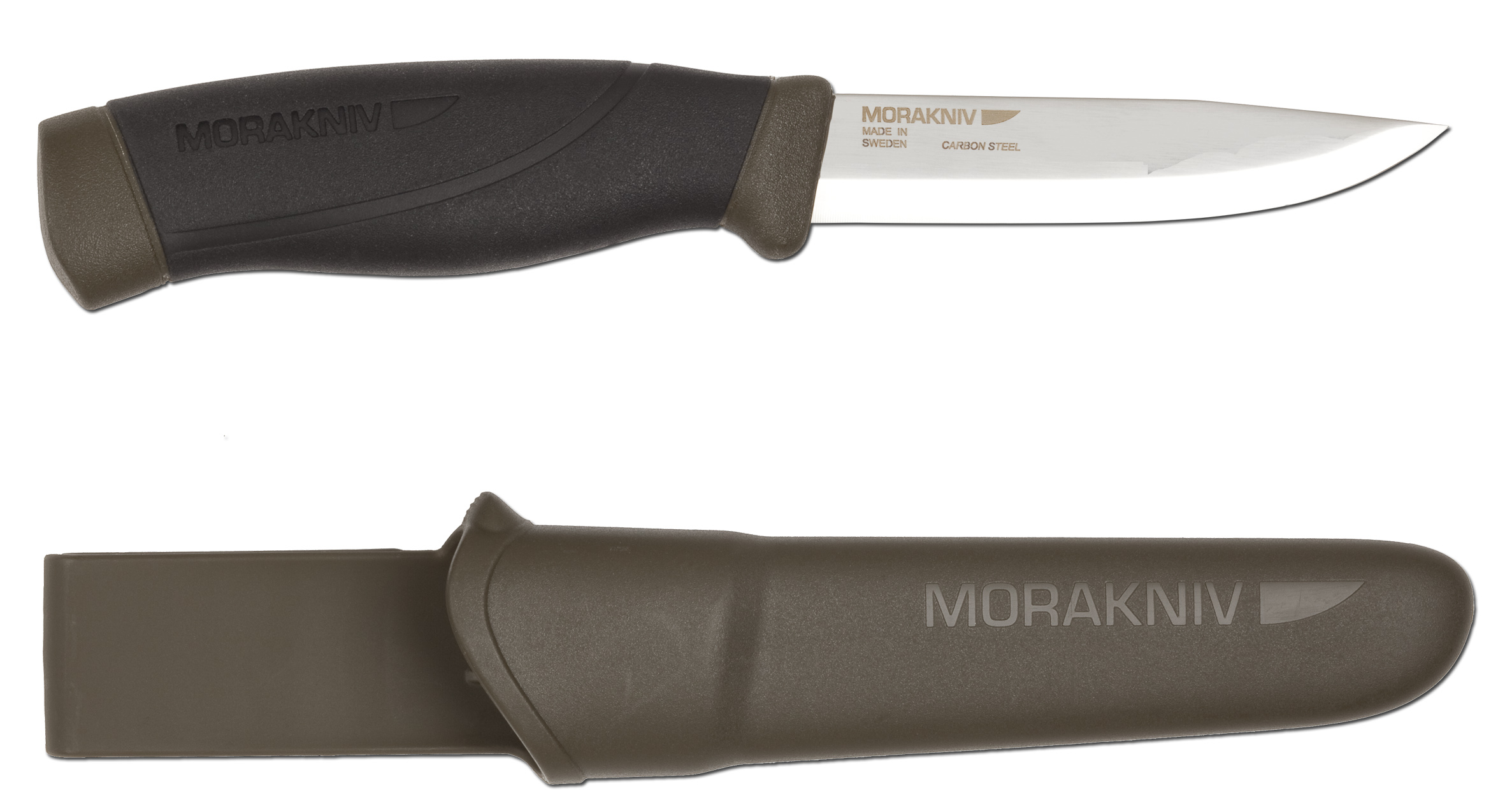 Mora Companion Heavy Duty
For those of you who like to 'abuse' your knives on a regular basis, and this is something we never recommend as such, but you may be interested in the new Companion Heavy Duty Mora knife which is a beefed up and stronger knife used for all of the same tasks as the Mora 840 and 860, but with the added addition of being able to batten larger chunks of wood.
The Mora Companion Heavy Duty is a powerful cutting tool for bushcrafters, hunters and outdoor people.
We recommend this outdoor knife for those who need a stronger all-round bushcraft knife. With its extra-larger handle and three-layer injection moulding and slightly blunter edge angle of 27 ° for maximum sharpness resistance (default is otherwise 23 °) the Mora Companion Heavy Duty is the knife for you!
The Heavy Duty Companion is also available in high-visibility orange OR, although not named the same, the Mora Black Blade Knife also has the same 3,2mm blade thickness.
All of these larger knives have the same scandi grind as the 840 and 860, so they're easy to sharpen and maintain.
Mora Companion Heavy Duty Specifications:
Blade Thickness: 3,2mm
Blade Length: 104mm
Total Length: 225mm
Net Weight: 0,1350kg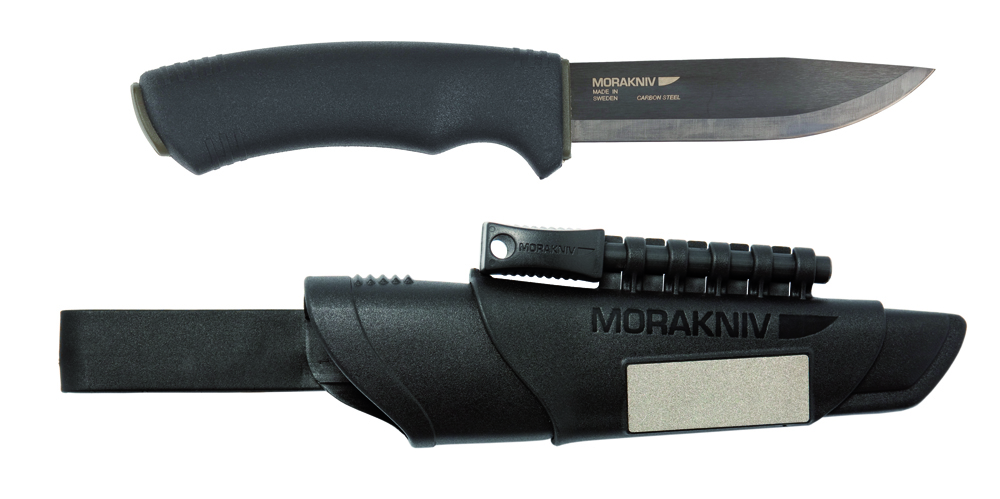 Mora Survival Knife
The Morakniv Survival or Bushcraft Survival Black has been designed around the requirements of those who need an extremely tough and durable survival knife and fire starter all in one unit.
The razor sharp blade is now black and the same thickness as the heavy duty range (3.2 mm thick) and is one of the most rugged knives ever made by Mora of Sweden. The black coating on the carbon steel blade protects the knife from corrosion, although the orange version of this knife comes with a stainless steel blade.
The back of the survival knife's blade is sharp-ground and intended to be used with the all-weather firesteel which is provided with the knife, although it will work equally well with other firesteels on the market. The firesteel create a shower sparks which burn at an incredible 3000 C° and will ignite natural and man-made tinder, working especially well with our natural and organic down. You may never need another firesteel, as they're capable of lighting 7000 fires, but if you do we can also supply replacement firesteels for this knife.
The sheath offer two belt loops and a built in diamond knife sharpener, so it's easy to sharpen the knife whilst out in the woods or jungle.
We recommend this knife for those who travel and the environment it will be used in may vary. The orange version of the knife is an excellent choice for those who may find themselves in saltwater environments or need a knife for emergency rescue situations.
Mora Survival Knife Black Specifications:
Blade Thickness: 3,2 mm
Blade Length: 109 mm
Total Length: 232 mm
Net Weight: 0,1630 kg
Forest School and Outdoor Education Knives
There's a few good choices from Mora to cover this area, two of which we've already covered – the 840 and 860 bushcraft training knives. But, if you're on a strict budget and require top quality at an even lower price, then it certainly worth considering the Mora 511 outdoor knife – an excellent cutting tool at a price so low it's a wonder how it's actually possible to produce them at such a great price.

Mora Craftline Q All-round 511
These are basic, yet very functional and safe knives to use, implementing a large finger guard for maximum knife safety and a dark red handle, which stands out more than the olive greens if dropped in woodlands or long grass. The blade has less depth than the 840 and 860 outdoor training knives, which is one reason the cost is lower, but there is more than enough steel to cope with tough utility and outdoor training activities. Each knife is supplied with a black plastic sheath for safe storage.
The Mora 511 makes an excellent forest school knife, so if you're able to cope without the rubberised grip and deeper blades of the 840 and 860 bushcraft training knives then these are an incredibly affordable and useful cutting tool.
Morakniv 511 Specifications:
Blade Thickness: 2,0mm
Blade Length: 96mm
Total Length: 208mm
Net Weight: 0,0970kg
If you require a multi-functional cutting tool with a rubberised grip which bridges the gap between the Mora 511 and the Mora 840 & 860, then it's well worth considering the Mora 711.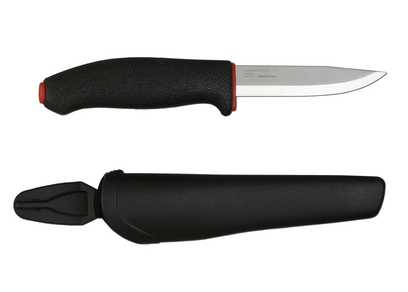 Morakniv Allround 711
Although originally developed as a knife for the construction and industrial sectors of the knife market, we find that the highly-graspable hand of the 711 is a good choice for anyone learning how to use outdoor knives safely.
The high-friction handle is patterned/textured and has been built to prevent repetitive strain injuries (RSI) and it also offer a greater protection for other nasty injuries due it's larger than normal finger protection.
711 Knife Specification:
Blade Thickness: 2,5mm
Blade Length: 102mm
Total Length: 228mm
Net Weight: 0,1230kg
Whichever knife you choose, whether it be from the range of Mora knives, or a different brand that we offer, you can rest assured that we only sell knives which are strong, have been rigorously tested in real-world situations and meet the demanding tasks put in front of them!
Of course, if you have any questions regarding any of the knives featured or other products on our website, please feel free to contact us and we'll be more than happy to offer our advice.
---