Become a Greenman Bushcraft Affiliate
---
Do you want to get FREE bushcraft gear or get money off your next purchase at Greenman? Of course you do! With the Greenman Bushcraft affiliate scheme, you can now earn Oaks Points by promoting our market leading range of products. Our affiliate scheme is open to anyone who wants to save money, get free bushcraft gear and has a means by which to promote our products to other bushcrafters, survival enthusiasts and all lovers of the great outdoors.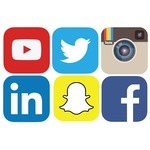 Maybe, you're a blogger who likes to share your outdoor adventures with others, if so why not promote your favourite products from Greenman Bushcraft and earn yourself Oaks points towards new gear. With the Greenman Bushcraft affiliate scheme there is no limit to the number of Oaks points you can earn and no end to the potential discounts and freebies.
Social media fans will love the Greenman affiliate programme as you can get money off new gear and even free bushcraft equipment when you share our exceptional range of products online. Unlike other affiliate schemes we don't encourage you to bombard your friends with constant adverts. Why not just share your favourite products, offer advice on the best tools, help your followers to get the best from their bushcraft experience, all whilst saving money and bagging yourself some free gear.
So, how does it work? The great news is that being a Greenman Affiliate is quick and easy to setup and you can start earning your Oaks points virtually straight away. The first thing you will need to do is ensure you have an account with us. Don't worry if you don't, it takes just moments to sign up, simply goto the online Registration Page and complete a few details to create your account.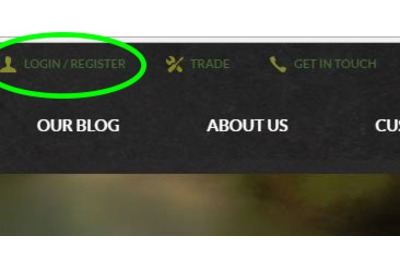 Once your Greenman account has been setup and verified then you can start promoting the site and earning points towards your next purchase with us. You don't need to be an expert at design either, once you're registered you can download a selection of pre-designed banners and buttons to upload directly to your website or social media page. You can add as many of our banners, buttons and logos to your site as you like to help maximise the number of clicks you get and the number of points you can earn.
You can even promote Greenman Bushcraft over multiple channels to extend your reach and get even MORE points and free gear. For example, if you have a website but also use Facebook and Twitter to interact with your users then why not reach all your followers and promote the great range of Greenman products to a wider audience.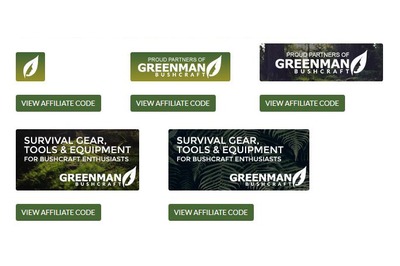 Unlike many affiliate schemes you won't just get rewarded for referring new customers to Greenman Bushcraft. If someone you refer already has a Greenman account then not only will you still receive your points for that referral, they will get points too. There is also no cap on points so the more people you refer, the more you will save.
So, how much does it cost to become a Greenman affiliate? Well, here's the great news, it is completely free to register as an affiliate of Greenman Bushcraft. Not only that but we continue to offer free support to our ever-growing team of affiliates, providing them with the latest promotional materials they need to maximise conversions.
Of course, there are a few terms and conditions but we pride ourselves on working with our affiliates and not against them so you can be assured that there are no nasty surprises hiding in the undergrowth. All we ask is that, when you are promoting Greenman you do so as an affiliate and don't pass yourself off as Greenman Bushcraft (We're sure you have your own identity and brand anyway!). We also ask that you don't use any of our intellectual property (asides from the promotional material we provide) without prior permission.
So that's it, you've got nothing to lose and plenty to gain so why not join the Greenman Bushcraft affiliate program today and start earning money off your next order with us. If you have any questions then please don't hesitate to Contact Us.
---