What's the difference between Carbon Steel and Stainless Steel?
---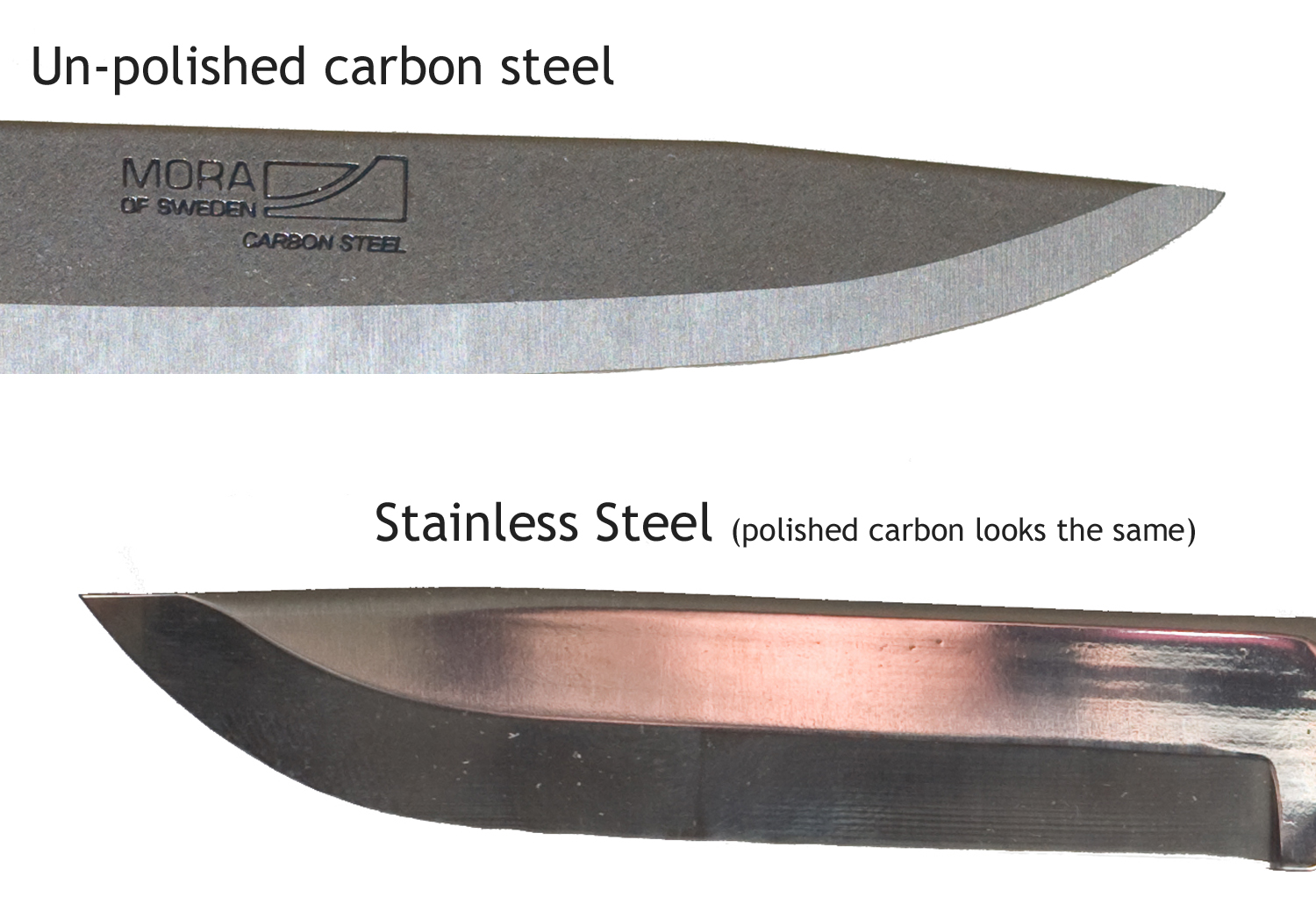 The differences between the two most common types of steel used for bushcraft and survival knives can be quite a complex area if we get into the technicalities of it, but for the purposes of choosing the correct steel option for your bushcraft knife I have attempted to keep this as straight forward and easy to understand as possible.

Carbon steel is by far the favoured material for bushcraft knives, but for the large part, this decision is based on a common myth.

There is a misconception that steel with a high-carbon content is the only type of steel to work in conjunction with a modern firesteel, otherwise known as a ferrocerium rod. The spine (back) of a survival knife is very often used as a striker for the firesteel, creating a shower of sparks to ignite a tinder bundle, a common way of lighting a more natural fire with the use of a knife.

Modern manmade flint will indeed work this way, but it will do so with any hard material, it doesn't have to be high-carbon steel. I've even created sparks using glass, not that I recommend or promote this method!
Carbon tool steel does hold an advantage if the flint being used is natural, but by far these days the flint is going to be manmade, so putting this myth to bed opens up the gateway to choose from either stainless steel or carbon steel.


Carbon steel tends to be easier to sharpen than that of its counterpart. And, in my opinion, usually (not always) has a slight advantage in sharpness and edge retention.
Un-polished carbon steel has a major benefit in that it's non-reflective surface means that the user can quite happily work away in a natural setting without startling wildlife that might otherwise be around you. Polished stainless steel is highly reflective, which on a survival knife can be an advantage, used as a singling mirror for example, but unwanted light bouncing from the blade will scare birds and other animals, so if you enjoy watching wildlife whilst out practicing your Bushcraft skills, then possibly carbon (unpolished) will be the better option for you. It also reduces any unwanted attention from passers-by.

One disadvantage of high-carbon steel is that it will corrode and rust very easily and exceptionally quickly. This means that it's not a good choice if you're going to be using your knife in a saltwater environment. Even the tannin from a tree or leather sheath is enough to cause rapid staining or patina to the blade. Because of this, carbon steel knives should always be cleaned and oiled after use, and if being stored for long periods of time, it's a good idea to keep the knife outside of the leather sheath, but of course make sure it's safely stored to avoid any unwanted injures.

Stainless steel tends to be ever so slightly harder to sharpen, and generally holds the edge for a little less time, although, once again, this does vary according to knife and of course the way it's being used. Stainless steel has a content of chromium within its makeup, which means it's shiny and less prone to rust, although if not cared for it will still do so!

As a very general rule, if you intend to use your knife for hunting or fishing, I'd opt for stainless steel. OR, for general Bushcraft I'd choose carbon steel as I prefer working with this. However, at the end of the day the choice is down to you, and the most important thing is that you enjoy using the tools that you have, and if looked after correctly both types of steel will serve you well for many years to come.
Best Bushcrafting
---